im not a religious person but i always thought of prayers as good thoughts and good energy, so please keep my dog in mind.
he broke his leg saturday night while playing out in the backyard at my mothers house, she said between the sound of the snap of the bones and his cry of pain, it is the most horrible sound she has ever heard. to top things of, its not a clean brake, it is a spiral fracture of both the tibia and fibula (both bones between the knee and ankle idk if i got the names right), the doctor said we could just put a cast on it, but the best thing is surgery. surgery its schedule for tomorrow morning and its going to be $2500, i dont think the doctor thought i was going to go for the surgery because of the cost, i told her i dont care how much it is as long as he is ok.
i have a friend who is a vet student and works at another animal clinic, so i had him do some research on the clinic and he told me my dog is in good hands, both of the surgens who work at the clinic are not only specialists but they are well known in the "vet comunity" in our area, as reasuring as that is im still very scared and upset.
---------- Post added at 02:40 PM ---------- Previous post was at 02:34 PM ----------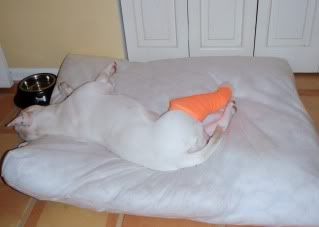 I can't remember the last time u was sad enough to cry, even though in pain meds and sedatives he is still in so much pain, I spent all night last night by his side on an air mattress keeping an eye on him, making sure he didn't try to move. I know he is hurting and scared, he freaked out any time I would move away from him.
Last edited by a moderator: