Administrator
Administrator
Source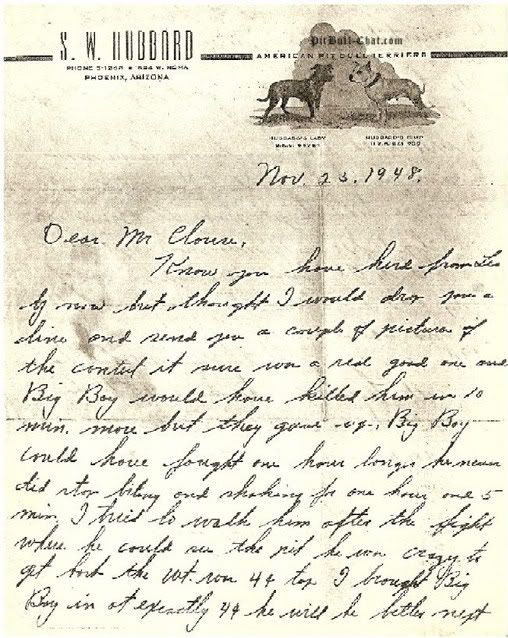 Page 2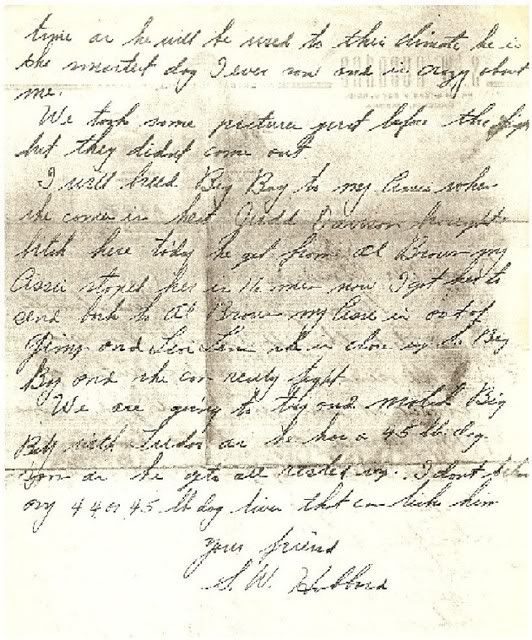 Transcription:
Nov. 23, 1948
Dear Mr. Clouse,
Know you have heard from Les by now but I thought I would drop you a line and send you a couple of pictures from the contest.
It sure was a real good one. Big boy would have killed him in 10 minutes more but they gave up.
Big Boy would have fought one hour longer. He never did stop biting and shaking for one hour, 5 minutes. I tried to walk him after the fight. When he could see the pit, he was crazy to get back.
The weight was 44 top. I brought Big Boy in at exactly 44. He will be better next time, as he will be used to this climate.
He is the smartest dog I ever saw and is crazy about me.
We took some pictures just before the fight but they didn't come out.
I will breed Big Boy to my Cissie when she comes in heat.
Judd Davidson brought a bitch here today. He got her from Al Brown's yard.
My Cissie stopped her in 11 minutes. Now I got to send her back to Al Brown.
My Cissie is out of Gimp and Lena.
She is close to Big Boy (pedigree wise) and she can really fight.
We are going to try and match Big Boy into Tudor, as he has a 45 lb dog (as he gets rested up). I don't think any 44 or 45 lb dog lives that can lick him.
Your Friend,
S.W. Hubbard
Source